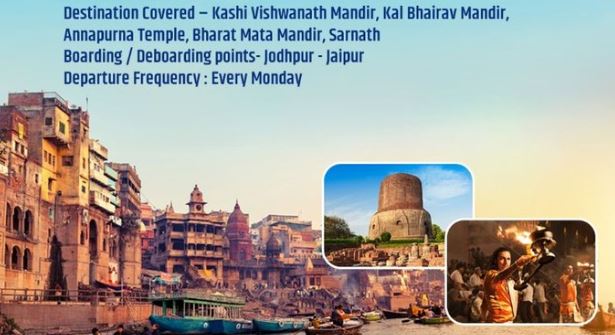 Varanasi Tour Package: If you are planning to visit Varanasi, the city of temples and ghats, then IRCTC has come up with an affordable package for you. Let us know the details of this special tour.
Varanasi Tour Package: There is good news for tourists wishing to visit religious places. Actually, IRCTC has introduced a very luxurious and economical tour package for Varanasi, the city of temples and ghats. In the package, you will get a chance to visit Kashi Vishwanath Temple, Kal Bhairav ​​Temple, Annapurna Ghat, Bharat Mata Temple and Sarnath.
IRCTC has given information about this package by tweeting. You can travel to Varanasi at a starting price of just Rs 5,865. Every Monday the train for Varanasi will open from Jodhpur and Jaipur. This package is for 3 nights and 4 days. In this package, you will get to travel in sleeper or third AC in the train. Apart from this, cab and bus facility will also be available for roaming. Hotel facility will also be provided by IRCTC for night stay.
Here's your chance to venture into the ancient city of Varanasi. Visit the city's various sacred locations along with Sarnath on the Varanasi ex Jodhpur-Jaipur #tour.

Book now on https://t.co/hOP1GUjgDX

— IRCTC (@IRCTCofficial) May 19, 2023
Tour Package Highlights
Package Name- Varanasi ex Jodhpur/Jaipur (NJR045)
Destination Cover- Varanasi and Sarnath
How long will the tour be – 3 nights and 4 days
Departure Date – Every Monday
Boarding/Deboarding Points- Jodhpur, Raika Bagh, Gotan, Merta Road, Degana Junction, Makrana Junction, Kuchaman City, Nava City, Sambhar Lake, Phulera Junction, Jaipur, Gandhinagar JPR, Dausa and Bandikui Junction
Meal Plan – Breakfast
Travel Mode- Train & Car
Class – Sleeper and Third AC