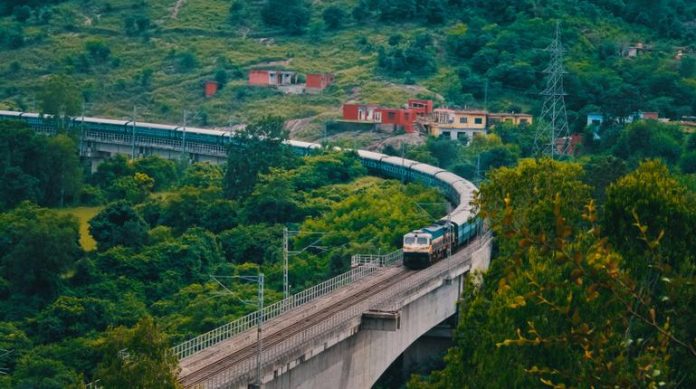 Indian Railways: Keeping in mind the convenience of the devotees going to Vaishno Devi from the railway side, two trains have been restored. 
With the start of these trains, it will be easier than ever for the passengers of many states to go to Vaishno Devi.
Indian Railways: With the arrival of 'Let's call, Mother has called…', good news has come for crores of devotees going to the court of Mother. The journey of those who go for the darshan of Mata Vaishno Devi will now become easier than before. Every year millions of devotees come here to visit. The facility up to Katra was started for the convenience of the devotees in the Modi government itself.
These two trains were restored,
now the Indian Railways has decided to run special trains from Chennai and Delhi to Katra. Apart from this, the Railways has also called the train 'Shri Mata Vaishno Devi Katra-Chennai Express' running from Chennai and Hazrat Nizamuddin Ernakulam Superfast (Ernakulam Hazrat Nizamuddin SF Express) running from Hazrat Nizamuddin station in Delhi. is introduced.
People of these states will benefit
from the restoration of these two trains coming from the states like Kerala, Karnataka, Goa, Maharashtra, Gujarat, Rajasthan, Jammu, Punjab, Haryana, Delhi, Uttar Pradesh, Rajasthan, Madhya Pradesh,
Telangana and Andhra Pradesh etc. Devotees will benefit. Northern Railway spokesperson Deepak Kumar said that Train No. 22655/22656 Ernakulam-Hazrat Nizamuddin-Ernakulam Weekly Superfast Express and 16031/16032 Chennai Central- Shrimata Vaishno Devi Katra-Chennai Central have been restored.
Trains will start from this date,
train number 16031 will run for three days in a week. It will start from 3rd July 2022. Whereas in down train number 16032 will start from 5th July 2022. Whereas train number 22655 will start from 6th July and train number 22656 will start from 8th July 2022. Chennai Central – Shri Mata Vaishno Devi Katra will operate twice a week up and down twice.
The ropeway will be 1,281 meters long
. Earlier it was reported that to make the journey from Katra to Bhawan easier, preparations are being made to start the ropeway facility. This ropeway will start between Katra and Ardh Kunwari. The length of the ropeway starting from Katra to Ardh Kunwari will be 1,281 meters.