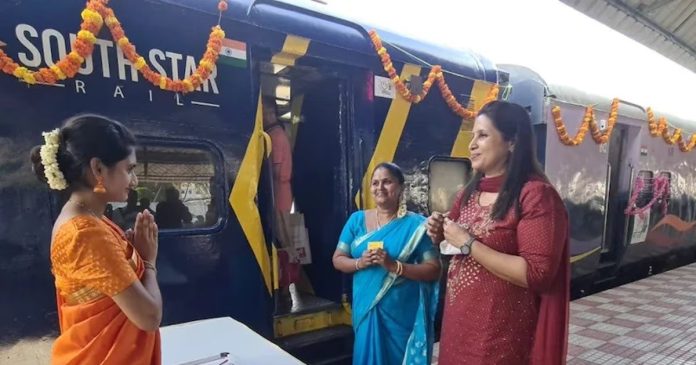 IRCTC Tour Package- Varanasi, Jasidih, Kolkata, Puri and Gaya will be visited by air-conditioned Bharat Gaurav Tourist Train. Rooms will also be arranged in AC hotels to stay in different cities.
New Delhi. There is good news for the devotees who want to visit Puri Gangasagar. They can now do this religious journey by Bharat Gaurav tourist train. IRCTC's Puri Gangasagar Yatra Tour Package (IRCTC Puri Gangasagar Yatra Tour Package) will start on 16 February. This tour of 9 nights and 10 days will start from Jalandhar city of Punjab and end there. If you also want to be a part of this tour, you can book online.
Varanasi, Jasidih, Kolkata, Puri and Gaya will be visited by an air-conditioned Bharat Gaurav tourist train equipped with all amenities. Devotees will be able to start their journey from Ludhiana, Chandigarh, Ambala, Kurukshetra, Karnal, Panipat, Sonipat, Delhi Safdarjung, Ghaziabad, Aligarh, Tundla, Etawah, Kanpur and Lucknow by train leaving Jalandhar City.
These facilities will be available
Bharat Gaurav train has AC third class coaches. Along with this, delicious vegetarian food will be served to the passengers at their berths from the modern kitchen car. Infotainment system is also installed in the train to provide entertainment and travel information etc. The train will be equipped with CCTV cameras for security. Apart from the train, IRCTC will arrange rooms in AC hotels for stay in various cities. IRCTC will also make arrangements for food outside the train and will provide local transport.
know the fare
All the coaches of Bharat Gaurav Special Tourist Train are of third AC class. There are a total of 600 seats in it, out of which only 300 are of standard class and the same are of superior class. To travel in superior class, a person will have to pay Rs 37,390. At the same time, for double and triple occupancy, Rs 26,450 and for a child of 5 to 11 years will have to be paid Rs 23,810. The fare for single occupancy in standard class will be Rs 30,270, for double/triple Rs 23,280 and for a child Rs 20,960.