6 Best Places to Visit in USA for Christmas
"Home for the Holidays" is a common catchphrase during December. But for majority of the international travelers, Christmas has become a popular time to explore new places. It is because things tend to slow down at office between Christmas and New Year as many people are away for the holidays. It is also easiest to take time off of work during this period. Additionally, a lot of Christmas travel deals are also available for saving those extra bucks if you know where to look for them.
Here we have rounded up some of the most popular places in the United States of America to visit during Christmas holidays.
1) New York City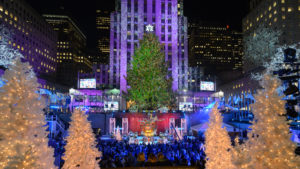 The sixth-most densely populated city in the United States, New York has a lot to offer to its tourists. A trip to New York at Christmas is worth exploring for the backpackers at least once in a lifetime. The city looks gorgeous during holidays with snow and lights all around, making it an ideal destinations for travelers.
Considered as one of the best places for shopping, the city has a great variety of unique gifts to make you and your loved ones feel special this Christmas. There are many holiday traditions that are worth experiencing in New York City. We have mentioned some of them below:
Visit Rockefeller Center to see a giant pine Christmas tree, the lighting of which is celebrated with a special ceremony and musical performances by artists.
Another tourist attraction that makes New York City the best place to visit during the holidays is the Radio City Christmas Spectacular, a Broadway-style show put on by the famous, high-kicking Rockettes at the most popular Radio City Music Hall.
Another must see thing is the Nutcracker by the New York City Ballet. You can see the man dubbed to be the 'real Santa' at the Plaza Hotel.
2) Chicago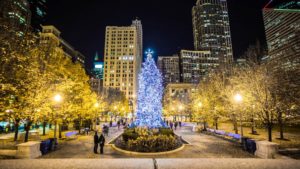 The Windy City undoubtedly has the brisk weather conditions to deliver a White Christmas—or at least a very, very cold one. Every years thousands of tourists visit Chicago's popular Christkindlmarkt, a German Christmas street market filled with traditional wooden toys, holiday crafts, decorative items, German food and drink. Like New York city, Chicago also sets up a giant Christmas tree in Daley Plaza. Also check out the Annual Christmas Around the World Exhibit at the Museum of Science and Industry.
3) Colorado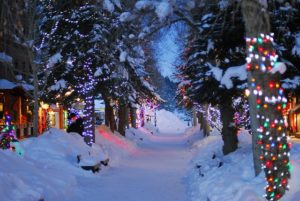 For a lot of travelers Ski and snowboarding holidays at Christmas time makes sense. Colorado is one of the most popular places to experience skiing in the United States. The place is famous for chic resort towns of Aspen, Vail, and Steamboat Springs. You can have a good time at Victorian Christmas at the Breckenridge ski resort. Interestingly, Colorado is home to NORAD, the governmental agency that tracks Santa's gift giving course on Christmas Eve.
4) Florida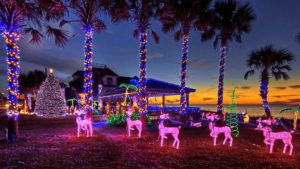 If you want your white Christmas to be made of sand and not snow then Florida is the place for you to visit. The city enjoys mild temperatures even in winters, that makes it an ideal choice for Christmas travelers. Apart from the beach destinations, you can visit Walt Disney World which looks truly spectacular with all decked up in its over-the-top Disney style. Don't forget to take your kids to the Very Merry Christmas Party there.
Or go to Miami during Christmas time, where the holidays have a more Latin flavor. During Christmas time, you can find boat parades and festive light displays in many cities across the state, such as the Night of Lights in St. Augustine.
Another great reason to visit Florida at Christmas is to visit Christmas, a little town near Orlando that has become one of the most popular places to get one's holiday mail postmarked.
5) Puerto Rico
Puerto Rico is a must visit place if you want to experience world's longest holiday season, which kick-starts in November and ends in February. You can not only skip the cold weather up in the north, but can actually catch a gorgeous tan while spending your holidays. The city has its own Christmas traditions, different decoration styles, storytelling and lip-smacking food.
6) Alaska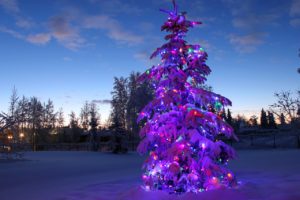 Alaska is the North Pole, you have to be really sure about the idea of cold and white Christmas if you are planning a holiday trip to Alaska. In fact, since 1952, numerous children who have written to Santa with their Christmas wishes have sent their letters to the Santa Claus House in North Pole, Alaska. The Santa Claus House also writes letters back to those kids, indeed a very exciting place for little kids. Wintertime is also the best time for catching the Aurora Borealis, or Northern Lights, in Alaska.
There are a plethora of Christmas festivals and events in Alaska, including Christmas-themed ice art sculptures. Adventurous people can even try dog sledding. But go fully prepared for the cold, you would need to pack a lot of warm clothes. Happy holidays!