Book the best worldwide holidays with travelomama Travel and our trusted holiday partners.
Make your dream destination a reality with fantastic holidays across the globe. If you fancy staying close to home, browse our best European holidays. Or, adventure far to Asia and embrace its temples, shrines, and fascinating culture. Discover the natural wonders and indigenous wildlife in Oceania and Africa.
Journey to South America, its vibrant countries, tropical rainforests and charming hospitality will endlessly captivate. As will the sightseeing opportunities in cities and national parks within North America. Perhaps choose to unwind on tranquil beaches in the Caribbean, within historic cities in Europe, or even enjoy a luxury holiday in the UAE.
Scan through our best worldwide holidays today and book your perfect trip.
Timeless Prague and historic Vienna break
Prague and Vienna, two of eastern Europe's most historic cities, are the focus of this two-destination holiday to the Czech Republic and Hungary. You will enjoy traditional luxury in Prague's five-star Hotel Hoffmeister near Gothic Prague Castle. Discover iconic sights like the ornate St Vitus's Cathedral and the 14th-century Charles Bridge, lined with statues and with stunning city views, and see another side of the city by taking to the cobbled backstreets to discover Prague's bars.
You will travel first class by train over the border from Prague to Vienna, staying in the five-star Renaissance Wien. Being one of the most musical cities in the world, Vienna has something for everyone, from classical music venues to great clubs and bars playing live hits. Being one of the richest cities in the world, Vienna will not disappoint.
Holiday provided by TMAMA Travel Solutions in partnership with Broadway Travel
Broadway Travel are an experienced travel company based in Luton, Newcastle and Frimley providing the best deals on holidays, city breaks and cruises since 1948. Broadway products are ATOL and ABTA protected and booking via the website or call centre is simple. Prices are subject to change. This holiday is provided by, and your resulting contract will be with Broadway Travel (ATOL 3634, ABTA NO.17088), a partner of Telegraph Travel Solutions and a company wholly independent of Telegraph Media Group Limited. Call to book to receive special offers, upgrades or tours as they may not appear online.
Five-star Atlantis, The Palm, Dubai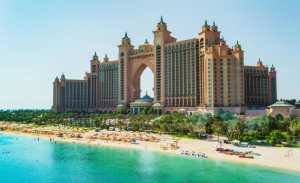 Take an unforgettable trip to magnificent Dubai and stay in the exceptional five-star Atlantis, The Palm resort
Overview